Unified processes for Nordec's construction operations with Salesforce
Nordec is one of the leading providers of frame structures for buildings, facades, and steel bridges in the Nordic countries. More than 40 years of experience and optimal solutions in the design, manufacture and installation of demanding frame structures create versatile value for customers.
With the merger of Normek Oy and Ruukki Building Systems Oy, Nordec needed a company-wide system and unified processes. In the long run, information processed in Excel would have easily caused information to be intercepted and made transparency more difficult. Nordec compared the market's leading CRM systems: Salesforce and Microsoft Dynamics. The solution ended up being Salesforce, and Ceili was selected as a partner from among the partner options. The most compelling reasons for choosing Ceili were the down-to-earth behavior, accessibility, and a hands-on approach.
Projects of several offers in the construction industry became easier
At a construction industry operator like Nordec, the business consists of project entities (Main Projects), which may contain several offers to different operators. One party does foundations, another facade, a third electrical work and so on. With Salesforce, Nordec can see all offers related to one project from the same place. In addition, several such projects with many offers, providers and operators are running at the same time. The offers are in different stages and can be answered by different people. Every Nordec expert used to also have their own contacts, whose contact information was up in different places. Now the contact bank cuts through the entire company and thus brings significant scalability advantages. The management of the whole therefore required a unified system, so that the information reached all the necessary stakeholders, and the processes were clarified. Nordec is an international operator, which is why cooperation between different countries needed to be facilitated by a unified and clear system.
"With Salesforce, we have enhanced and harmonized our sales and customer relationship management processes. Information is centrally located in one place, where it serves a multitude of different use cases. Changes in the sales process are immediately visible everywhere and separate inquiries within the company are no longer required. Cooperation between different units has also become easier as we moved on to the solution." – Mikko Bergman, Chief Information Officer, Nordec
Not just technical implementation, but in-depth definition of processes
When two companies merge, both will naturally have different operating methods and processes, which had to be unified. Because of this, the cooperation between Nordec and Ceili did not focus only on the technical implementation, but a very strong attention was paid to the planning of Nordec's processes before designing of the system structure. In the workshops, issues related to processes were discussed from the beginning: how sales will be made, where the leads will come from in the future and who will handle them, and what stages they go through.
The cooperation included workshops, user training and catch-up meetings. Nordec wanted to strongly involve people in the project, thanks to which there were a lot of experts from different roles and versatile discussions in the workshops. In addition to these, it was decided to hold weekly Salesforce clinics for about six weeks to ensure user engagement and learning. A specific topic was always chosen for the clinics (e.g., Outlook integration) and a practical review was carried out on how to use the feature and for what. The clinics also included a Q&A section, where users could easily ask for additional information and received answers and clarifications from Ceili's experts. Onni Vatanen, a Salesforce consultant from Ceili, managed Nordec's clinics and both sides were very satisfied with them.
Implementation of Sales Cloud and further planning
During the implementation of Salesforce Sales Cloud, further development was constantly kept in mind, as Nordec aims to expand the use of Salesforce in the near future with Ceili. Before this, however, the goals and vision need to be clarified, for example in terms of marketing. However, it is good to be aware of the future steps already in the first implementation, so that the system and data structure can be configured to support future extensions. This way, the system does not have to be changed radically in the next development stages.
Nordec is very satisfied with the cooperation and the end result
Common processes and ways of working have now been implemented in Nordec's everyday life and excels have been replaced with real-time reports in a unified system. Open offers are reviewed weekly at Nordec, their status is updated in Salesforce, and the next steps are planned.
Ceili's project manager Sanna Kallio is satisfied with the cooperation with Nordec:
"Cooperation and communication between the project managers went really well with weekly joint meetings where progress was monitored on both sides. It was great to see how strongly Nordec wanted to define common processes and how their importance was understood at every level. Of course, a company merger brought its own challenges to decision-making from time to time, but when everyone has a common shared goal in mind, the end result is as desired and genuinely supports operations. The development of internal operating methods is of course a continuous process, but a well-planned base creates a significant foundation for future development."
CIO of Nordec, Mikko Bergman, commented Nordec's and Ceili's cooperation as follows:
"The collaboration with Ceili was smooth and fun. The chemistry between Nordec and Ceili worked brilliantly. Ceili's role was not only to be Salesforce's technical implementation partner, but we also received valuable best practice information on how our processes would work most optimally. Ceili also challenged our opinions constructively, bringing together a commendable outcome.
Salesforce is a massive solution, and no consultant can manage all its features. With the help of Ceili, we gained know-how for each of the specific functionalities in our project with the help of various consultants. Ceili's competence was truly extensive and of the highest quality."
Learn more about our customers' experiences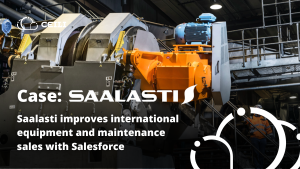 Saalasti is a third-generation family business founded in 1945 that manufactures the world's leading biomass processing equipment. Long experience and continuous development work enable customers
Read more »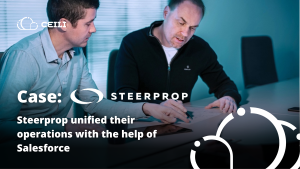 Steerprop was founded in 2000 to develop and manufacture propulsion systems for the most demanding seafaring conditions. Hundreds of ships (for example every third icebreaker
Read more »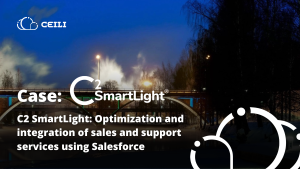 C2 SmartLight is a Finnish technology company that offers smart and unique lighting infrastructure control and monitoring solutions with support services to most Finnish cities.
Read more »