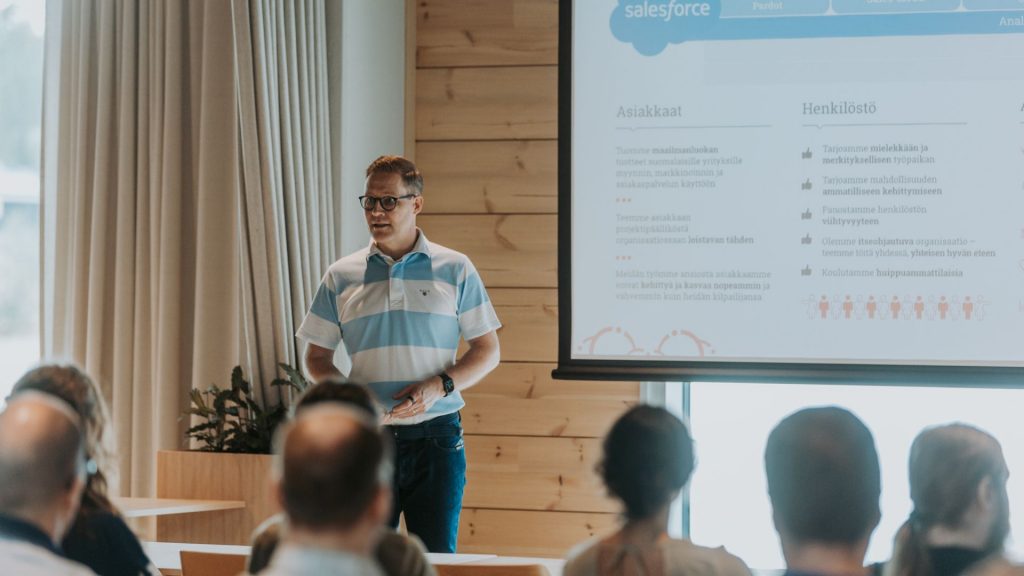 Sales Cloud – Salesforce Clouds ABC
Salesforce is the market's leading CRM platform solution which smoothly brings sales, marketing, and customer care together on one platform. It is possible to fully customize the platform to suit your business and connect the necessary invoicing, quotation, HR, and project management tools. But how do you choose which clouds or modules within Salesforce would be the most useful for you? In this blog, we open the tools of Salesforce's Sales Cloud, and the business benefits it brings. But remember that the best understanding is achieved by having a conversation with a partner from the perspective of your business.
Sales Cloud – the holy grail of sales and sales management
Every salesperson has at least once in their life struggled with maintaining information and keeping track of all the threads. If sales calls and customer relations are only in the seller's head, it is natural that information is forgotten, and sales are not as effective as they could be. Often at this point, Excel enters the picture, which quickly becomes huge and difficult to manage. In addition, it does not connect with marketing and other business areas. After that, it is normal to start looking for a CRM solution that gives sales the support it needs and enables other functions on the same platform.
1. Customer management
Information about leads, prospects, current customers, and opportunities for additional sales is entered into the Sales Cloud through automation and the seller's own entries. You can add reminders (tasks) to the platform so that customers don't fade away and create automations to fill in the desired information based on other information.
In most companies, 20% of the customers bring 80% of the turnover, so it is not worth handling all customers in the same way. For these key customers, customer-specific customer care plans with annual calendars are important, which enables systematic KAM work. Salesforce's task is to remind you of the agreed schedules and tasks, so that customer-specific information is not lost, and the ball is not dropped, even if the people responsible for the customer unexpectedly change.
2. Sales pipeline management
Usually, salespeople are doing many things at the same time. It is easy to follow many sales opportunities that are in discussion at the same time in a dynamic sales pipeline, where sales opportunities can be updated easily as situations develop. This also gives an overview of how many potentials are currently in discussions and what amounts are being talked about.
The management of sales opportunities through sales pipelines enables the use of time in sales to be specifically targeted at the most potential sales opportunities at that moment. Lost sales pipelines are removed from forecasts and from the salesperson's desk from confusing the overall picture. For each won and lost sales pipeline, data is collected on the reasons for the win and loss, so that the sales and marketing processes can be developed to be more efficient.
3. Sales management
Many times, sales may be led by looking in the rearview mirror, i.e. by looking at how much sales have been made in relation to the goal, instead of keeping an eye on the future and leading sales systematically through the opportunities in the sales pipeline.
The business management, the sales team leader, and the seller himself all need sales management in their job. The sales management is responsible for the sales processes, and the salespeople are responsible for implementing the processes. The system should comprehensively support the success of all parties in their respective tasks. Now there is a lot of talk about leading with data, but if we take one step back, it is impossible to lead sales with data if information about customers and sales cases is scattered in salespeople's notebooks, emails, and Excel files, instead of being centralized in one place.
Essential information for sales management is e.g. how many open offers each seller has in the process, how the working time is distributed among the sellers, are best practice functions shared in-house, does any seller need support, where are we going in relation to the goal and do we need more lead inputs from marketing to support sales?
4. Reporting
Real-time reporting enables e.g. the monitoring of the above-mentioned issues and the easy flow of information through the company. In sales and development meetings, it is natural to analyze the situation through Salesforce numbers and easy-to-understand charts. If someone wants to dig deeper into what the numbers in a chart are made of, you can get more information with one click. The reports are fully customizable to the current business need, and you can create your own dashboard views for individual sellers, teams, management or sales and marketing cooperation.
Often the challenge for companies is one of the two extremes: either there is no data and reports (when there is no system to store them) or there are simply too many irrelevant data and reports. When the most relevant reports for each job are brought in a visual form to their own dashboard view, the situational picture remains as up to date as possible for everyone, without the red thread that is essential for the operation drowning under an excessive amount of information. In other words, in addition to the existence of data and reports, it is essential to use them properly.
5. Integrations
Salesforce is a highly customizable and dynamic system where almost everything can be handled on the same platform. However, there is often a need to create integrations between systems, such as an ERP system or email and Salesforce. In this way, e.g., customer data in the ERP system that is relevant to the work of salespeople (product-specific sales volumes, complaints, etc.) can be imported to Salesforce's customer card, so that the overall picture does not have to be created by jumping between different systems. The essential emails sent are also synchronized directly to Salesforce under the contact and/or company in question and are visible to everyone responsible for the customer. In this way, mishaps are avoided. Salesforce has ready-made integrations for thousands of systems, and new ones are being created all the time. You can read more about the integration of ERP with CRM on our blog.
6. Customized solutions
Salesforce is known for its customization, which makes it suitable for any industry and different types of business forms. Whether it is necessary to create a dealer portal, an online spare parts store, a reservation system, an HR tool, a project management platform, a offer document management tool, or even a generator of different file formats, it can be done. Solutions are created when a need is noticed, and they are also produced ready to be made available to others in Salesforce's own app store.
Here is just a summary of the benefits of Salesforce's Sales Cloud, as the platform's possibilities are limitless and fully customizable to the needs of different industries. Therefore, you can get the best picture of the platform's possibilities by talking to a Salesforce partner or a Salesforce representative. We will gladly go through your needs together and think about how Salesforce could serve you.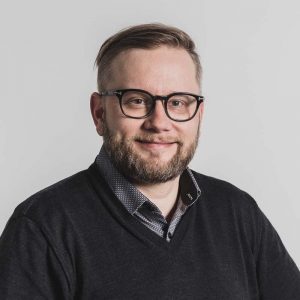 Writer:
Jussi Granberg
Sales Manager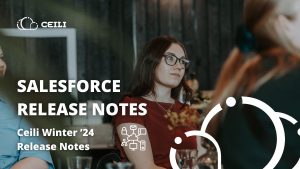 Here is a traditional Ceili's summary of the upcoming new features and changes in Salesforce's Winter '24 release, which has been published in September. Salesforce
Read more »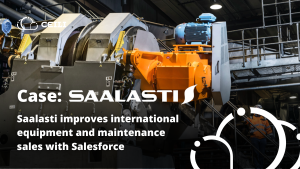 Saalasti is a third-generation family business founded in 1945 that manufactures the world's leading biomass processing equipment. Long experience and continuous development work enable customers
Read more »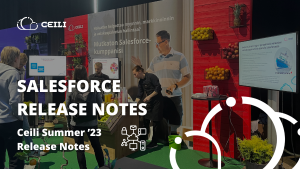 Here is a traditional Ceili's summary of the upcoming new features and changes in Salesforce's Summer '23 release, which will be published between April and
Read more »