Kotikatu chose Ceili to accelerate the development of their Salesforce environment
Kotikatu is a local and agile real estate service company founded in 1989, which offers all the services, resources and delivery reliability of a large operator effortlessly and reliably. Kotikatu is part of PHM Group Oy, which is a Nordic real estate maintenance group. The group consists of strong local companies and serves its customers in Finland, Sweden, Norway and Denmark and is constantly expanding its operations to new areas.
Ceili as a new partner
Kotikatu has been developing its own Salesforce environment since 2019. Salesforce has become a business-critical information system on Kotikatu. It handles sales, customer service and supervision of practical work at the field level. There are almost 2,000 Salesforce users in Kotikatu. Most of the development work has been done in the past mainly as their own work. As the company's business grew rapidly, the need to find a competent partner to support its own Salesforce development work came to the fore. In the spring of 2021, Kotikatu got to know different Salesforce suppliers and evaluated their capabilities. At the end of the comparison, Kotikatu decided to start cooperation with Ceili Oy.
Salesforce's development work started with small support work and doing the development work requested by business functions. As the environment has become more familiar to Ceili, the cooperation has also expanded, e.g. for mapping the development needs of the architecture and supporting license optimization. The practical work is controlled using a step-by-step road map plan (Wavemap). It assesses the development needs presented by different business operations and the schedule for their implementation. With this tool, the prioritization and schedules of development work can be planned efficiently. In addition, it gives the opportunity to tell the business when the development work they want will be started and brought into production.
Both sides are satisfied with the cooperation
The development work being carried out is guided by meetings held every two weeks, where the development work already done based on the wavemap and the development needs to be taken up next are reviewed. At the same time, a division of tasks is made as to which work will be done with Kotikatu's internal development resources and which work will be undertaken by Ceili's expert team.
Kotikatu IT's service manager Minna Honkanen is satisfied with the cooperation:
"Ceili stood out from the supplier candidates on the basis of their straightforward approach, flexibility and good energy. We started the cooperation with small development tasks and have gradually deepened and expanded the cooperation. It is valuable to us that we can rely on Ceili's experts for small support needs as well as for the most demanding projects related to architecture, for example. If necessary, we have also received support on a fast schedule. The cooperation has become a close partnership, and it's also nice to work with the people of Ceili."
Ceili's CEO Sami Kettunen is also happy with the partnership between Kotikatu and Ceili:
"Our collaboration started with small development. It has gradually expanded and turned into a close partnership. Kotikatu's Salesforce environment is very extensive and demanding. However, its takeover has been very successful for our experts. A key tool in development work is the Wavemap, which we can use to systematically promote the needs of different business functions. Such tools are important so that the prioritization of work and their communication to different stakeholders can be done smoothly. Partners like Kotikatu are very important to us – we get to do demanding development work for a fast-growing company whose work is visible in the everyday lives of thousands of people every day.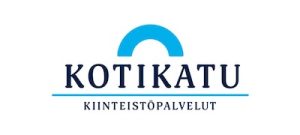 Learn more about our customers' experiences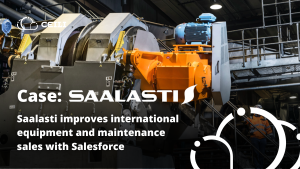 Saalasti is a third-generation family business founded in 1945 that manufactures the world's leading biomass processing equipment. Long experience and continuous development work enable customers
Read more »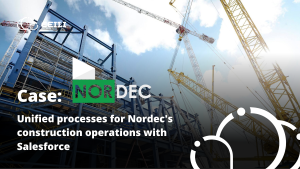 Nordec is one of the leading providers of frame structures for buildings, facades, and steel bridges in the Nordic countries. More than 40 years of
Read more »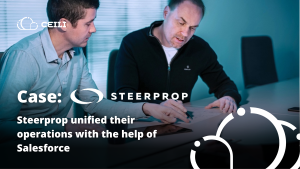 Steerprop was founded in 2000 to develop and manufacture propulsion systems for the most demanding seafaring conditions. Hundreds of ships (for example every third icebreaker
Read more »