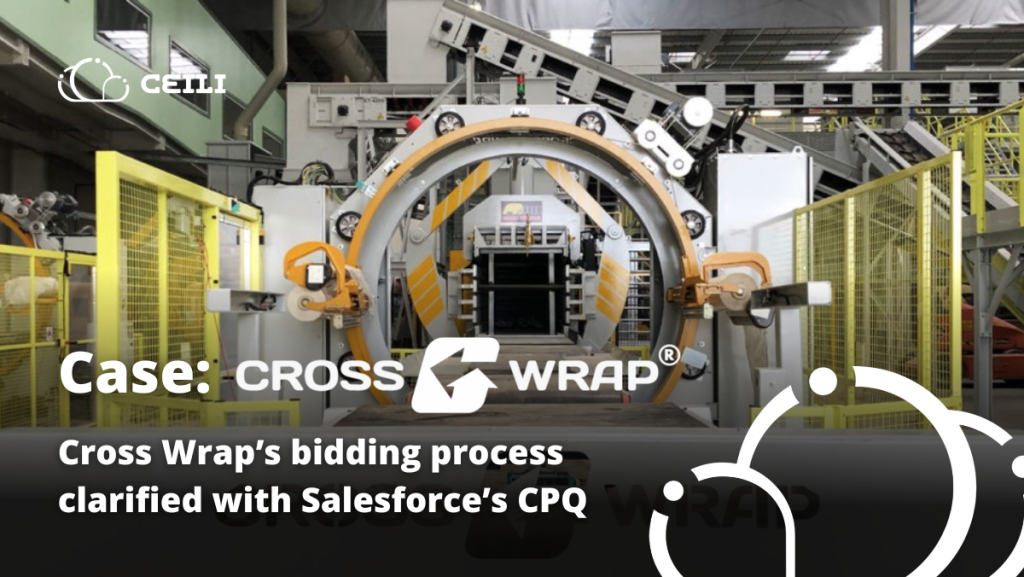 Cross Wrap's bidding process clarified with Salesforce's CPQ
Cross Wrap Oy from Finland (Siilinjärvi) manufactures and sells wrapping and unwrapping equipment, which is used to handle, wrap and open bales and packages. The international customer base includes professionals in the waste treatment, recycling, energy and wood industries. Cross Wrap's customers in more than sixty countries deserve to be supported by a consistent and clear bidding process. Hence Cross Wrap decided to grow its Salesforce together with Ceili by implementing CPQ – a tool that clarifies the bidding processes.
What was the goal of implementing CPQ?
Cross Wrap had been using Salesforce for quite some time, starting in 2013. At the time, the implementation had been done with another partner. However, faster response was needed in the support services, so Cross Wrap turned to Ceili. Support cooperation went well and the discussion gradually moved to the need for a tool for the bidding process.
With the large size and international nature of the company, the bidding process that was run in Excel started to become too heavy and complicated, because Cross Wrap's bidding process goes through e.g. the mechanical, electrical and computing department within the company. Excel allowed human errors and information was scattered. To support the operation, a system was needed where the entire bidding process would be handled on the same platform. This is how eyes turned to CPQ, which was cleverly integrated into the already existing Salesforce.
How was the implementation of CPQ made in practice?
1. Big Excel step
Data quality plays a huge role in implementation, which is why the so-called big Excel step was initially made. Cross Wrap created an Excel that clearly contains all the product data that needs to be processed during commissioning. The product structure was modeled in Excel and the different product levels and hierarchies were thought through.
2. Going through the bidding process
At the same time, together with Excel step, the entirety of the bidding process was worked through. For example, it was defined together when to switch from Opportunity to Quote for product configuration. What the offer should be in the end. Does the offer go through the approval process and what steps does it involve.
3. Import to CPQ
After these steps, the Excel entities were imported to CPQ. This phase included a lot of hands-on testing to make sure the processes and structures worked. The testing took weeks and was mainly carried out by Cross Wrap, as they had the best knowledge of what the offer should look like and what steps to go through during the process.
4. Implementation and internalization
Finally, implementation with Cross Wrap started. Introducing the new tool to the organization, training and implementation were handled together between Cross Wrap and Ceili, and it is a continuous process with the platform updates. Cross Wrap wanted to lead user trainings themselves, which is a really great thing. The company itself has the best knowledge of which internal language and terminology they understand best. Ceili was strongly involved, answering more technical questions, and supporting the progress of the process. Building trust within the company was key, as the functionality of the new system must be trusted.
5. Continued support from Ceili
After implementation, Ceili will continue in Cross Wrap's Support role, in addition to other functions of Salesforce, now also for CPQ. Technical questions often arise after implementation, which Ceili is happy to answer. Acquiring CPQ can take longer, especially in roles where it is used less often and practical matters might be forgotten before a routine is formed. Ceili helps by e-mail, phone and Teams, and also helds so-called User Groups, where the necessary things are reviewed with a larger group. Ceili also proactively helps its customers by talking about common pitfalls and best practices.
How did the collaboration go?
From Cross Wrap's side sales manager Anne Lentz, business manager Aki Paananen, design manager Jukka Oksman and sales manager Mari Hämäläinen were strongly involved in the process.
"Since the beginning, we have been very satisfied with Ceili's professionalism and quick response. Our needs were listened to, and the collaborative needs mapping and definition ensured that the project went through without any problems. For us as a company, it is important that our system partner is reliable and that the conversation is open in both directions," comments Anne Lentz.
Ceili's project manager Sanna Kallio was also very satisfied with the collaboration with Cross Wrap:
"Communication was open and work was done together. I can say on behalf of the entire team at Ceili that the great thing about Cross Wrap was how actively they wanted to participate in the deployment and configuration. So, they already learned how to use the system during the implementation. Although this may have slightly slowed down the duration of the overall project, it was significant in terms of the internalization and further utilization of CPQ. The comprehensive project focused on quality and good groundwork, which created an excellent basis for cooperation. Cross Wrap, together with Ceili, also implemented the marketing side of Salesforce (Marketing Cloud Account Engagement = Pardot), a few years ago, which was also a very successful project."
Learn more about our customers' experiences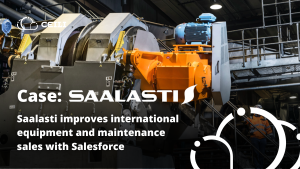 Saalasti is a third-generation family business founded in 1945 that manufactures the world's leading biomass processing equipment. Long experience and continuous development work enable customers
Read more »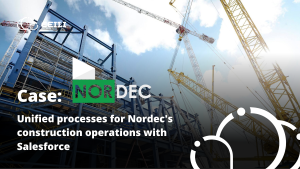 Nordec is one of the leading providers of frame structures for buildings, facades, and steel bridges in the Nordic countries. More than 40 years of
Read more »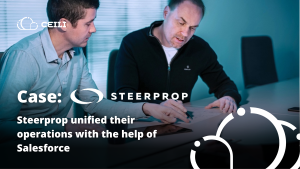 Steerprop was founded in 2000 to develop and manufacture propulsion systems for the most demanding seafaring conditions. Hundreds of ships (for example every third icebreaker
Read more »