Integrating ERP into CRM – a challenge worth taking on
Almost every company has some kind of ERP (Enterprise Resource Planning system), which is the backbone of business. However, the features of ERP often fall short when a more adaptable system is needed.  For example connecting ERP with sales, marketing, customer service, project management and/or production. Or maybe the automation of basic functionalities is needed, which would free up resources for business development. We have answered four frequently asked questions regarding the integration of ERP and CRM.
Can ERP be integrated into CRM?
Yes. We are often asked if it is possible, for example, to connect Visma L7 or SAP to Salesforce. Yes, it can be done, and so can dozens of other ERP systems, because it's not so much about the ERP system itself, but about what information you want to transfer, what kind of interfaces you want the information to flow through and in what way.
Connecting ERP to CRM helps build a digital customer path and manage a unified overall picture without information gaps created by separate systems. ERP is often a storage place for customer information, which does not offer real-time monitoring of the customer's activities or total value. Which could create a deeper customer understanding and opportunities to expand the customer relationship. With the help of integrations, sales people's work is made easier. They get access to key customer information directly from the CRM platform and see the overall picture of the customer.
Some of our customers sell both products and services, in which case product sales (i.e. new sales) are often done in CRM, while service sales (such as maintenance work and delivery of spare parts) are done in ERP. It is important to combine this information, so you can look at the real invoicing per customer, forecast sales, see customer activities, and pay attention to key customers in a completely different way. When customer's total value does not have to be guessed between different systems every day processes become faster.
Do we need CRM if we already have ERP?
Salesforce's CRM brings added value around ERP. It enables a 360-degree understanding of your customers' behavior and helps develop operations with forecasts and goals. Instead of only looking at the past. Salesforce contains an unlimited number of opportunities for sales, marketing, customer service, project management, as well as the implementation of practical processes. It really is a fully customizable platform solution.
Thanks to its customization, Salesforce differs from other CRM systems on the market and fully adapts to the customer's wishes. At Ceili, we focus on creating a successful implementation of Salesforce CRM for our customers. We also teach how to use Salesforce for the continuation, so that the development isn't a one-time thing or completely dependent on the partner.
How are ERP and CRM integrated in practice?
Integration can be done using integration platforms such as Mulesoft, Dell Boom or Frends. It is also possible to do one-way or two-way integration, which is often a more cost-effective solution than integration platforms. For the latter option, we recommend two-way integration, where information flows in both directions between ERP and CRM. In this case, it is important to define the location of the master data, i.e. whether it is in ERP or CRM. Master data for sales information is often in CRM, for example, while invoicing information can be in ERP.
ERPs located on the customer's own server (on-premise) are often more difficult to integrate than cloud-based ERPs offered as SaaS services, but the integration is possible with the help of a partner, no matter which one it is. Often in integrations, a bigger challenge than the technical implementation is the quality of the data, which may require cleaning or enrichment, so that the quality of the information brought into the CRM is at a good enough level. Before implementing integrations, it is important to assess the quality of the data and the needs to improve it.
Integrations are often the most critical phase in projects, which may affect the length of implementation projects of CRM systems. We recommend starting to define them right at the beginning of the project. In this way, they do not delay the implementation of other aspects of the project.
What are the practical benefits of ERP and CRM integration? 
Integrations are an investment and an integral part of modern business development. They pay for themselves in the long run, being an investment in the future. Integrations are not industry-dependent and are needed in every industry.
The concrete benefit is to see the true overall value of the customer, find out which are the key customers, enable a seamless continuum of sales to production or project delivery (i.e. bring them enough information about the whole offer and the boundary conditions, making it easier to start the implementation) and connect all the company's business functions on the same platform for real-time review. Well-done integrations help create a seamless digital path from marketing to sales and from sales to production.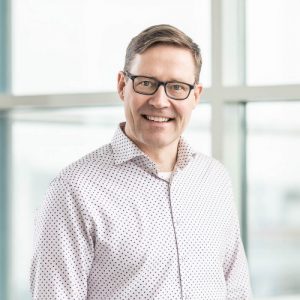 Writer:
Sami Kettunen
Partner & CEO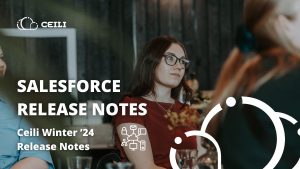 Here is a traditional Ceili's summary of the upcoming new features and changes in Salesforce's Winter '24 release, which has been published in September. Salesforce
Read more »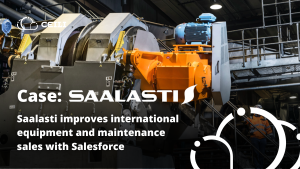 Saalasti is a third-generation family business founded in 1945 that manufactures the world's leading biomass processing equipment. Long experience and continuous development work enable customers
Read more »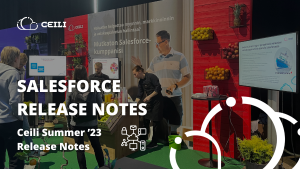 Here is a traditional Ceili's summary of the upcoming new features and changes in Salesforce's Summer '23 release, which will be published between April and
Read more »