Commerce Cloud – Salesforce Clouds ABC
Salesforce is the market's leading CRM platform solution, which smoothly brings sales, marketing, and customer service together on one platform. It is possible to fully customize the platform to suit your business and connect the necessary invoicing, quotation, HR, and project management tools. But how to choose which Clouds or modules within Salesforce would be the most useful for you? In this blog, we open the tools of Salesforce Commerce Cloud, and the business benefits it brings. But remember that the best understanding is achieved by having a conversation with a partner from the point of view of your business.
Commerce Cloud – business results from the online store effortlessly
Commerce Cloud is an opportunity created by Salesforce to streamline online sales and reduce costs. Salesforce has held the leading position for seven years in a row (2022) in Gartner® Magic Quadrant™ for Digital Commerce -research.
With Commerce Cloud, it is possible to create an online store easily and quickly, use recommendations created by artificial intelligence to increase lead production, and build customer relationships using real-time data. Commerce Cloud is a powerful tool that enables a company to achieve agile results from its online store. It is suitable for both B2B and B2C industries and grows with the growth of the business. In addition, it enables smooth payment traffic and third-party integrations.
1. Fast, easy and agile
Implementing Commerce Cloud and setting up an online store is easy with a competent partner. The time to market, i.e., the time from when the development work is started until the launch of the online store, is short, so the benefits of the investment are also easy to spot in a short time. Commerce Cloud users have reported that they achieved results quickly; even tripled the traffic compared to the previous year. To speed up the launch, Commerce Cloud offers a huge selection of ready-made templates that can be used to set up a company's online store.
In addition to the technical establishment of the online store, Commerce Cloud has paid special attention to usability and user experience. The online store can be easy to use, orders and their processing can be smooth, and pricing and making offers can be clear. This helps both the customer and the online retailer.
2. Integration with Salesforce CRM and other Clouds
When the online store is in the same system (Salesforce) as CRM, all information and data are available to both in a common data warehouse. Meaning better customer understanding, monitoring of behavior, management with information and the development of e-commerce and CRM with the help of the information collected by both.
In addition, Commerce Cloud seamlessly communicates with other Salesforce Clouds you use, such as sales and marketing. No part is separate and all use common data. For example, marketing campaigns can be implemented in the online store and the results can be monitored directly from Salesforce, or additional sales opportunities detected in the online store can be directed directly to sales for handling.
3. Consideration of the purchase path
Commerce Cloud, like Salesforce as a whole, is a smart solution when it comes to customer experience, guiding the customer in the desired direction and considering the customer's overall picture. The intuitive platform enables proactive sales and consideration of customer behavior in pursuit of better user experience and business results. Commerce Cloud makes strong use of artificial intelligence, offering the customer a customized and intelligently personalized e-commerce experience based on his recognized behavior.
4. Integrations with other systems
For integrations, Commerce Cloud offers up-to-date API interfaces that make integration with third-party systems such as payment and shipping services or ERP solutions easy. By utilizing interfaces, for example, the customer's online store order can be transferred between systems and processed in such a way that the customer receives the ordered products on time.
Here is just a summary of the benefits of Salesforce Commerce Cloud, as the platform's possibilities are limitless and fully customizable to the needs of different industries. Therefore, you can get the best picture of the platform's possibilities by talking to a Salesforce partner or a Salesforce representative. We will gladly go through your needs and think together how Salesforce could serve you.
Writer:
Jari-Pekka Renko
Project Manager & Project Team Lead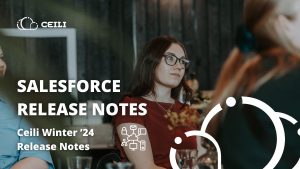 Here is a traditional Ceili's summary of the upcoming new features and changes in Salesforce's Winter '24 release, which has been published in September. Salesforce
Read more »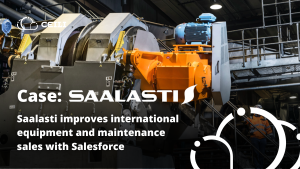 Saalasti is a third-generation family business founded in 1945 that manufactures the world's leading biomass processing equipment. Long experience and continuous development work enable customers
Read more »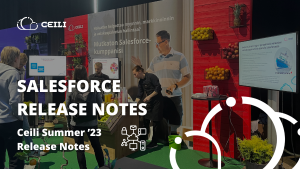 Here is a traditional Ceili's summary of the upcoming new features and changes in Salesforce's Summer '23 release, which will be published between April and
Read more »