Ceili GoPDF for CPQ
Salesforce is a constantly evolving platform, on which it is also possible to build customized add-ons. We found a need for this with our customers when we wanted to extract customized PDF files from CPQ, which facilitates Salesforce's bidding processes and helps with dynamic pricing. This is how the idea of ​​a PDF generator that could be connected to Salesforce's CPQ was born.
So what does Ceili goPDF for CPQ enable?
We got tired of the CPQ connected PDF solutions offered on the market, the use of which was rigid and very limited. Therefore, we created Ceili GoPDF for CPQ, that allows you to create a PDF directly from CPQ according to your own criteria.
Ceili GoPDF for CPQ enables a completely new way to create PDF files directly from CPQ. You may need to extract various documents from Salesforce, such as offers, contracts, order confirmations and warranty receipts. And now it is possible in a customizable and dynamic way!
With Ceili GoPDF for CPQ, you can create a template with your brand look by defining the footer, cover page, header, theme and many other sections. You can add images and titles and define your brand color and font. The template's fields can also be defined to retrieve information directly from your Salesforce. For example, customer's name.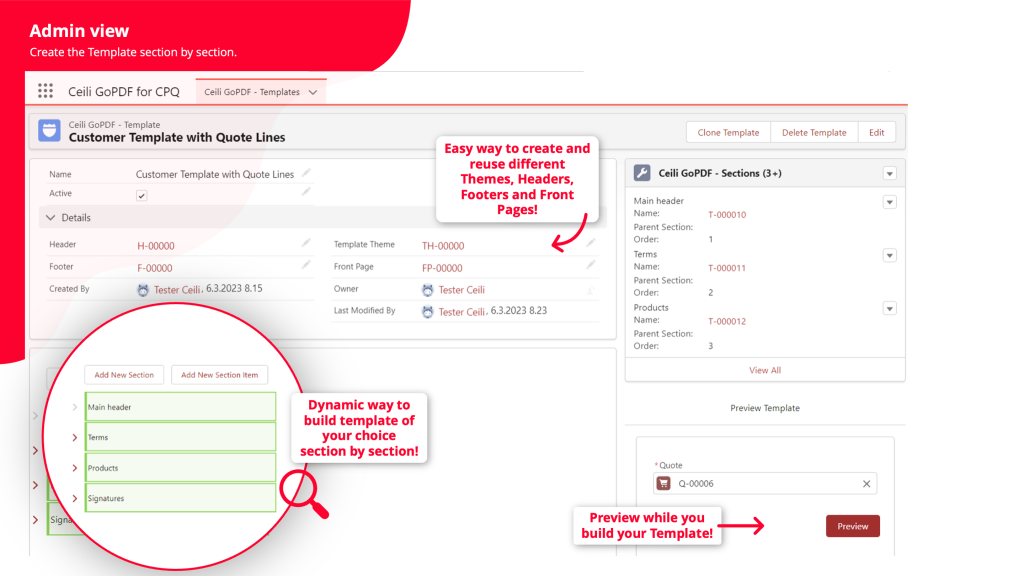 The editing tool is easy to use and you can always see a preview next to it, so that it is easier to visualize the final result. You can create conditions so that certain quotes always appear in a certain place in the file or certain information must be filled manually.
Once you have created an amazing template, you can copy it and use it again, or if you want, create a new one and delete the old ones. All in all, your template is not stuck around the data you have driven in, but can be customized according to your needs.
Dynamic PDF for CPQ – Effortless design.
Read more about Ceili GoPDF for CPQ from our services or visit Salesforce AppExchange!
Want to notice new content right away? Follow us on social media!